A leap year only happens every four years, right? So why not do something memorable on 29 February 2012? Rolex and I made a sudden and quick trip to Dubai. Our 3rd trip to Dubai since we moved to the land of desert and honey oil. He's very reluctant to bring Sultana and Azal so we bought the bus tickets at around 7PM and left at 12:00 midnight on the same day. We even went for a birthday dinner then only after I started preparing for the trip. As usual the "best packer" in me was put to the test.
We made it to Dubai at around 6:30 – 7:00 AM, lounge for an hour at Chowking (I've neer been to Chowking for more than a year now) because they open only at 8AM. After breakfast, I beg at the hotel front desk to let us check in at the earliest time possible and luckily we were in at 9AM. I took a quick nap (less than an hour) and went straight to why we were there in the first place (Rolex' busines first).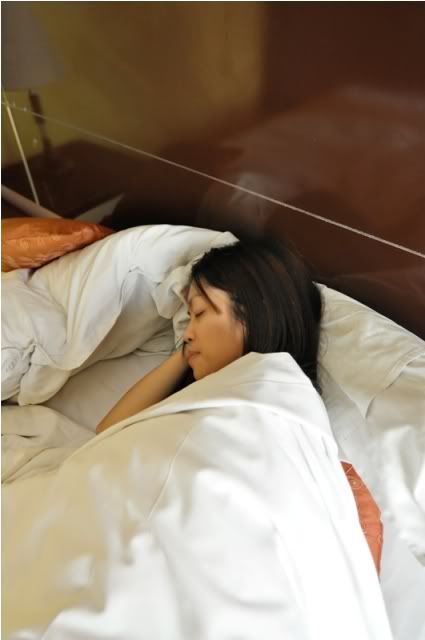 Talagang may picture akong nag-nap, haha! Parang tanga (wala lang).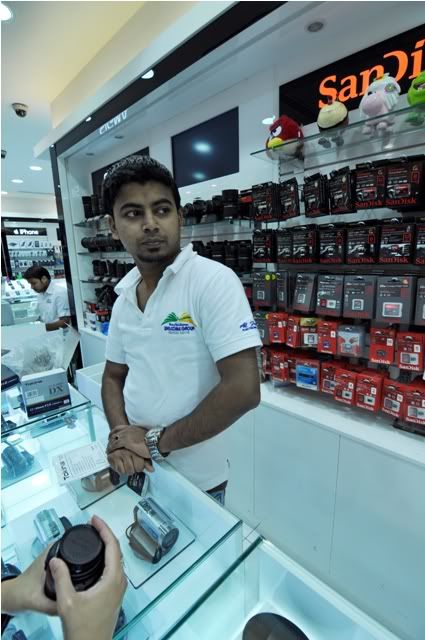 Thanks Kuya for the discount. 1st customer on March 1st (ayan, nag-emote pa sya).
For lunch, I ate Japanese and he had Chinese…as usual no photo, gutom ako! OK!
We went back to the hotel to freshen up…but before that, again I took a power nap (10 minutes with 5-minute-extension).
And since Rolex was happy with his new lens, he ended up test-shooting me anytime, anywhere, unaware.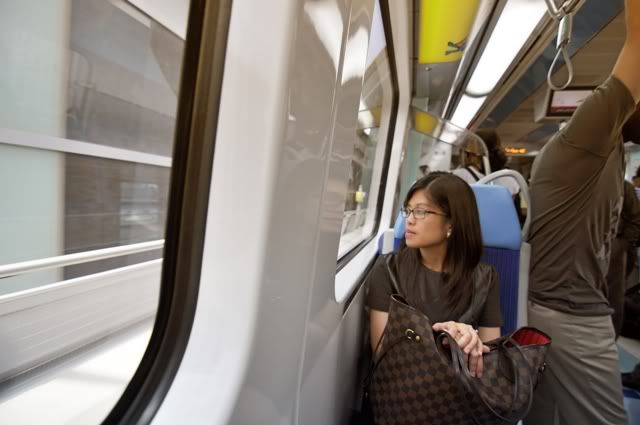 Moment ko eto!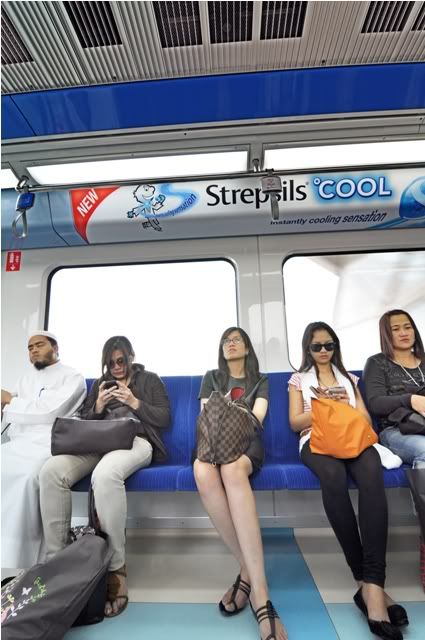 Sabi pa ni Ms. International Melanie Marquez, "I love my long-legged". So this is the effect of this lens, I will have longer legs,haha!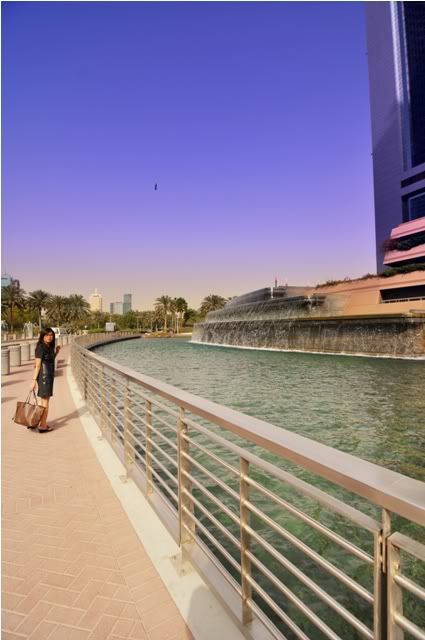 Dropped by at Emirates Tower's Jumeirah Hotel, again for another business (haha!chos!may nakalimutan kasi dun kaya namin binalikan).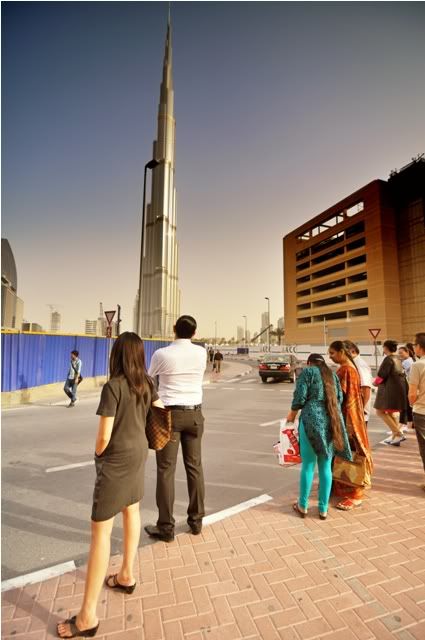 Waiting for the F13 bus that will take us to Dubai Mall.
Whenever we are in Dubai, we are always in the company of my our highschool barkada Neray and her husband Raymond. Neray was still at work so Raymond, the gentleman that he is patiently waited for us at Dubai Mall.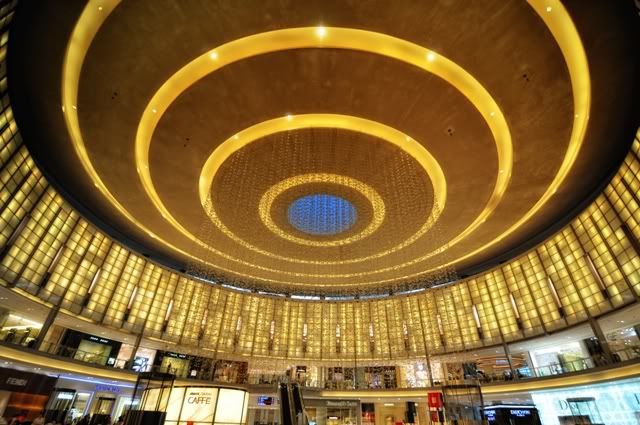 In Dubai Mall where Disneyland is……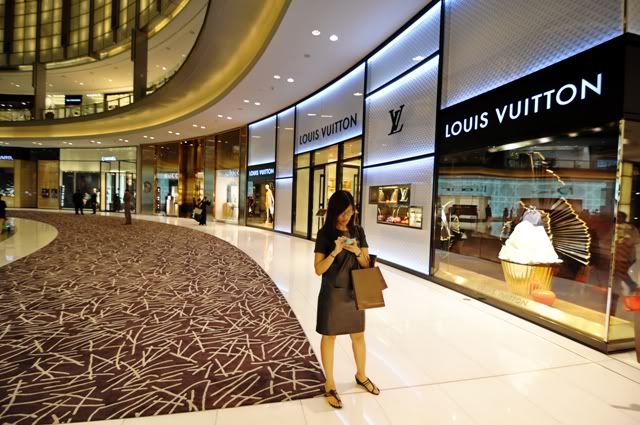 Louis Vuitton = Disneyland

I was adrenalized, mesmerized, etc..Just like disneyland where I hope there's magic but reality check I was there in my so-called Disneyland with 2 men. I felt like I was Judy Ann Santos being antogonized by 2 "kontrabidos" in a soap-opera, blocking my way to happiness. Warning to all women, never ever go shopping with men. In fairness to them, they don't tell you "DO NOT BUY THAT". Instead they will tell you "ARE YOU SURE OF THAT? IS THAT TOO EXPENSIVE? TRY TO THINK THAT YOU CAN BUY MORE STUFF WITH THAT AMOUNT THAN JUST A PIECE OF BAG" or they will calculate the equivalent price in Peso which makes you ask yourself too. But there is no LV in the Land of Kaugahan. This is already cheaper compared to the price tag in Pnas because its tax-free. The worst thing is the sales lady is showing me more bagsssss…I was drooling and got even more confused. Then Rolex told me that he knew my choices isn't "to buy or not to buy" but he knew that my bewilderment is "which one to buy". So he went straight to the sales lady and asked for the bag I was planning to get and said, "Ok we are taking this one". haha! In the counter, the sales lady told me, "You have a funny husband". I do not know if it is a compliment but yes he is funny and annoying sometimes, haha! I ended up with 3 lootbags…actually only 2 but I forgot to ask for the bag box that I have to go back the day after (read: shungak) and they put the box in another paper bag.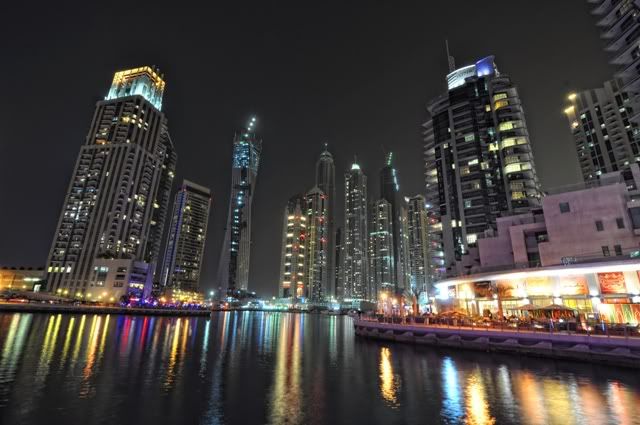 Raymond and Neray treated us on a sumptuous Japanese dinner at the Dubai Marina. Again, I forgot the name of the restaurant but I had the oh-so-yummy crunchy beef teriyaki!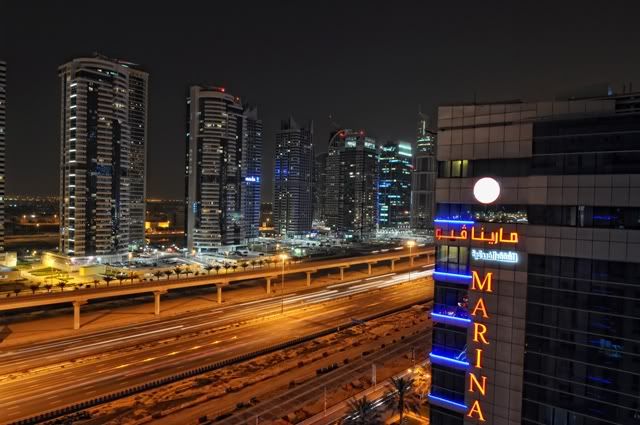 Since they live near Dubai Marina, we just walked our way to their pad. This is the view from their 12th floor unit. Unprepared for our visit, Raymond brought out 4 bottles of different spirited drinks to Rolex' delight, haha! Neray and I fine tuned our vocals with the videoke and sang the night away that we emptied a bottle of champagne. I dont know what happened next but I woke up at 7am not in our hotel room but still at their pad,haha! (I wasn't drunk, I was just tired). Rolex was still snoring badly that time.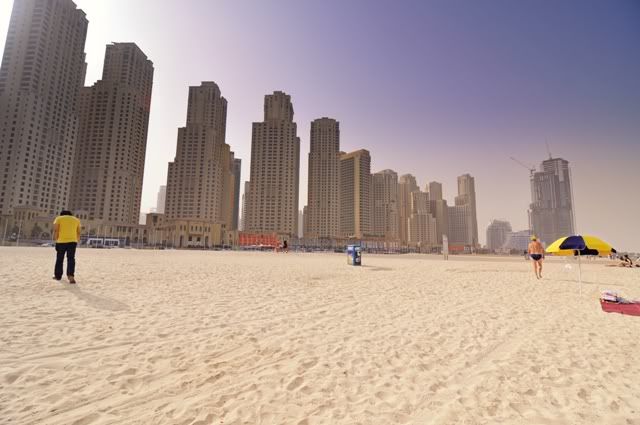 We had breakfast at Chowking again at the Jumeirah Beach Residences (JBR). The boys had loads of soups, water, coffee and cola to wash out the toxins, haha! Then got some fresh air from the beach to soothe the hang-over.
A good place is good but it's best when you are with the best company of friends. Though its our 3rd time in Dubai, this City still never fails to amaze me. First, there is alot of Pinoys, parang nasa Manila ka lang sans the oh-so-superb facilities. Everything is so accessible…the beach, the mall..etc but of course everything doesn't come so cheap. But why we are here in a foreign land to work? We may have different answers but we all deserve a break, pamper ourselves and as I always say to justify a purchase, this is my gift to myself…haha!
Photo Credit: ByBernard (edited by me)
PS.
At lunch before going back to the Land of Kaugahan, Neray I think bit her tongue and asked for a number. I said "12″, which means letter L. We were trying to figure out what the letter L stands for. Then we realized that we just found another one to love while we were at Bloomingdales….LA MER. Now Rolex' goin' to kill me.
Cheers!