This woman never ceases to amaze me. From wearing a blood vial of an ex-husband around her neck, adopting 3 kids of different nationalities and having twins of her own, being UN Ambassador to marrying Brad Pitt (soon). Angelina Jolie really never ceases to amaze me. It might just be so damn easy being Lara Croft or Evelyn Salt or Master Tigress but to lose your breasts in order not to lose a lifetime with your children is another thing. Angelina Jolie just made a shocking medical choice of a lifetime.
"I wanted to write this to tell other women that the decision to have a mastectomy was not easy. But it is one I am very happy that I made. My chances of developing breast cancer have dropped from 87 percent to under 5 percent. I can tell my children that they don't need to fear they will lose me to breast cancer.", Angelina Jolie wrote in an article for the NYtimes. She underwent a preventive double mastectomy.
Preventive mastectomy is the surgical removal of one or both breasts in an effort to prevent or reduce the risk of breast cancer. Can you imagine removing your breasts before the onset a real cancer? I mean, most women want boobs. Who doesn't? Not extremely humongous but at least a pair that does not require the aid of a wonder bra. I don't have that kind of boobs so maybe a preventive mastectomy would not make a difference to me but kidding aside just the thought of the process medically and emotionally is overwhelming.
"I am fortunate to have a partner, Brad Pitt, who is so loving and supportive. So to anyone who has a wife or girlfriend going through this, know that you are a very important part of the transition. Brad was at the Pink Lotus Breast Center where I was treated, for every minute of the surgeries. We managed to find moments to laugh together. We knew this was the right thing to do for our family and that it would bring us closer. And it has.", she also wrote.
And I wrote this: Oh Brad Pitt!
The lost of a breast or both is unimaginable for a woman, much more the lost of a loved one because of cancer. It is something I dread to think about. It doesn't take a celebrity like Angelina Jolie to choose an option that can change a lifetime. After all, we are all human. Remember, what doesn't kill you makes you stronger (I should keep telling that to myself).
To read the entire article from NYtimes, click here.
Cheers!
Once upon a time, I was crazy about maxi dresses. I want to have them in different prints, color, etc. One day, I saw a flower printed piece at H&M in New Castle for only £ 10. I rushed to Rolex and ask, "Hon, look its so pretty and its on sale". He replied, "Ngano ganahan man ka sige ug palit ana na mura man na ug duster?"(Why do you keep on buying when it looks like a duster). I was shocked! Precisely because I often associate the duster (dress) with old women (read: losyang or matrona). After analyzing it, I have thought that maybe the maxi dress evolved from the duster. First they are both comfy and light. On the other hand, the duster is something you can wear strictly at home while the maxi dress is all around. Though it looks roomy, it still has an appeal that is quite flattering to the body.

See this gray version here from Geren Ford.

Checkout this Tibi light pink maxi dress in floral print, so pretty.

See here the basic black maxi from Wallis.
source: google phtotos
I still love the maxi dress and love it even more because of Angeline Jolie. And I still believe that though Rolex has a point, I don't really trust his taste when it comes to fashion.
Happy Mother's Day! Stay chic and fabulous! …and remember not to wear the duster outside the home. Better switch to the maxi dress, a safer and fashionable choice.
Cheers!
Engaged and happy, Angelina Jolie in showed off her slim frame in a sleeveless bodycon dress, nude pumps and the coveted YSL Cabas Bag.
ph: dailymail.uk

YSL Cabas Bag (so hard to find, always sold out)


Christina Louboutin Open-toe Pumps (less $$$ found here)
Now I dont know how to get the look of this gigantic bling2x. Brad Pitt, now tell me!
Cheers!
She loves not only Brad Pitt but also Louis Vuitton.
She loves being a mom to her kids and also Louis Vuitton.
She looks fab in Louis Vuitton even when preggy.
Much more when she's back in shape with her Louis Vuitton.
She travels in style in a private jet with her Louis Vuitton.
Isn't it inevitable that she is the face of the latest Louis Vuitton's "Core Values" campaign?

Angelina Jolie as the new face of Louis Vuitton's Core Values campaign. Photo: Louis Vuitton/Annie Leibovitz
The campaign was shot in Cambodia where Angelina first set foot as Lara Croft, came back as UN Goodwill Ambassador and and subsequently adopted her eldest son Maddox from a Cambodian orphanage. It was said that she wore her own clothes and with her own vintage Louis Vuitton Alto holdall in Monogram canvas, a bag the actress has owned and loved for many years. Angelina Jolie's fees for this campaign, which is rumored to be $10M are being donated to charity.
"A single journey can change the course of a life. Cambodia, May 2011."
Cheers!
As the saying goes, " If you have it, flaunt it".
"Having" does not necessarily means you have a full amount your chest can handle. In fact, having too much is not a sight for sore eyes. Staring at it will make you think, is that a boob or something where I poop? Practically just enough, medium, firm…something like Jennifer Aniston has, something, at least I wish I have…haha!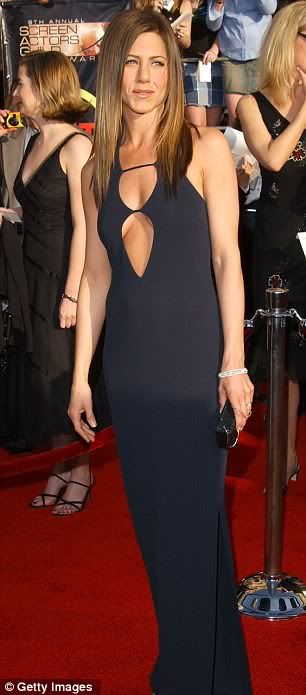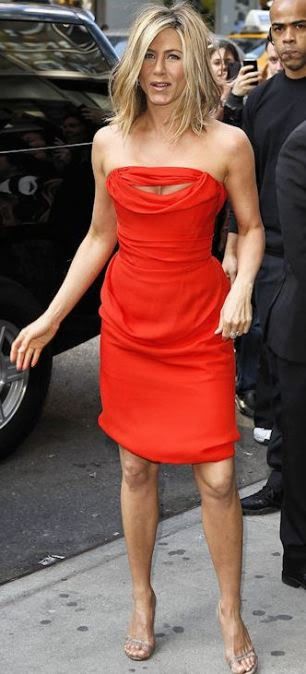 The first 2 photos, she was still with Brad Pitt. The last one, Angelina Jolie already has Brad Pitt. At 42, she's still looking "hawt"…"my gawd"…something I wish I will be by 42…haha!
Cheers!