#salealert :
Life is not perfect but your spring #ootd can be. Check out this
MSGM Ruffle Tee.
I bet you'll love it!
Shop Now!
_______
I am not usually excited every time my birthday is coming up. I don't know but I always have that anxiety…and birthday blues, even days before the exact date. Rolex and I have been planning to go somewhere out there even just for 3 days…ok, I want Rolex wants to see Taj Mahal and cge ako na rin…haha!, but work always gets in the way (as if busy), but seriously hindi pwedeng basta ka na lang mag-absent and……we can't find a cheap deal for a tour package, so I guess that trip will have to wait.
So on the day of my birthday, Rolex planned how it's going to turn out and since that short vacation was cancelled, we opted for a "staycation" somewhere where "kaugahan" does not exist within the Land of the Kaugahan. (staycation – a vacation spent at home or nearby, possibly due to expensive overseas holiday)

This is the beautiful Shangri–La's Barr Al Jissah in Oman.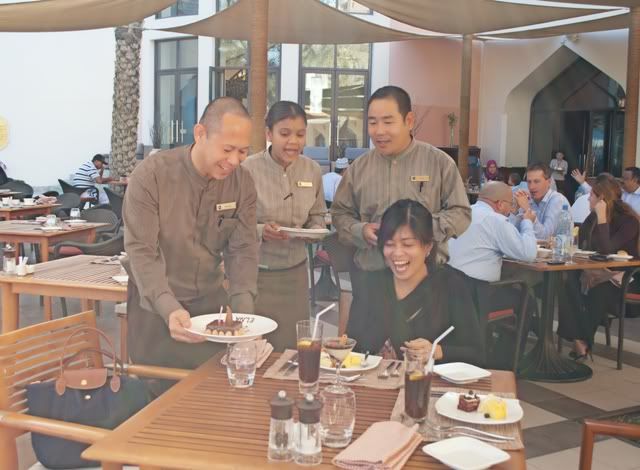 After lunch, we went outside of the restaurant to have our dessert and to my surprise : SURPRISE!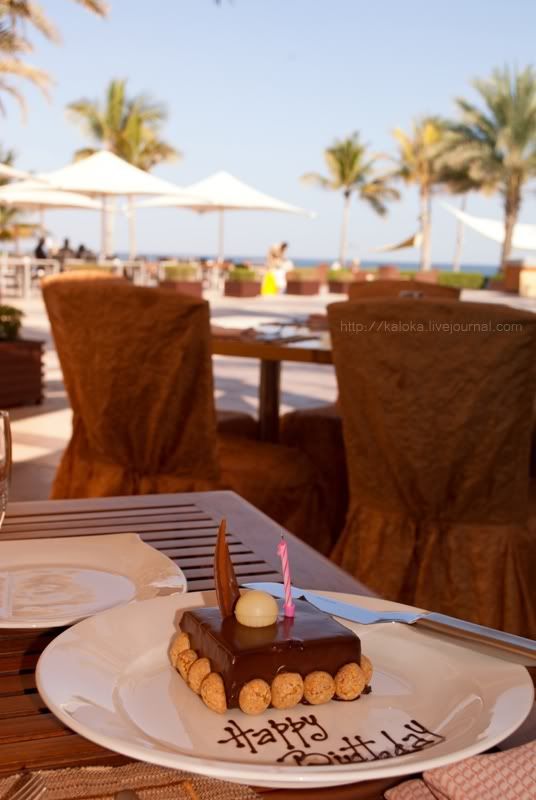 Salamat pala kay pareng Marlon (that guy holding the cake) for preparing this surprise. Honestly, I was expecting it…haha! Its always a wonderful experience everytime there is a Filipino staff in any establishment you go to abroad. I dont know with your experience but with us, there is always that extra mile of service…at always may chickahan portion sa buhay2x.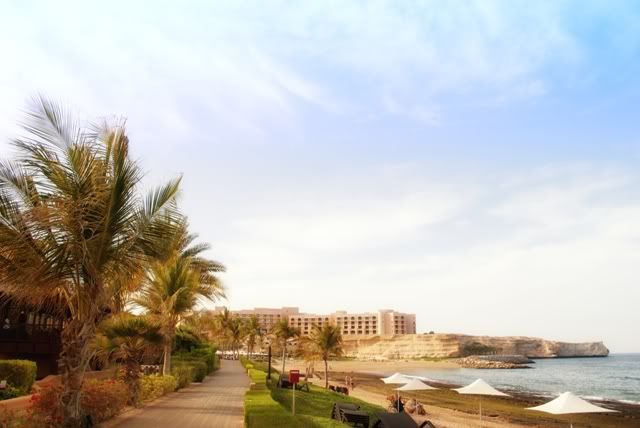 At dahil forte ko ang kumain ng buffet, namin pala…kelangan mag-lakad para matunawan.haha! This is a long stretch from the Al Husn Hotel to Al Waha Hotel (Shangri-La Resort in Muscat has 3 hotels within the compound, the 3rd hotel is called Al Bandar).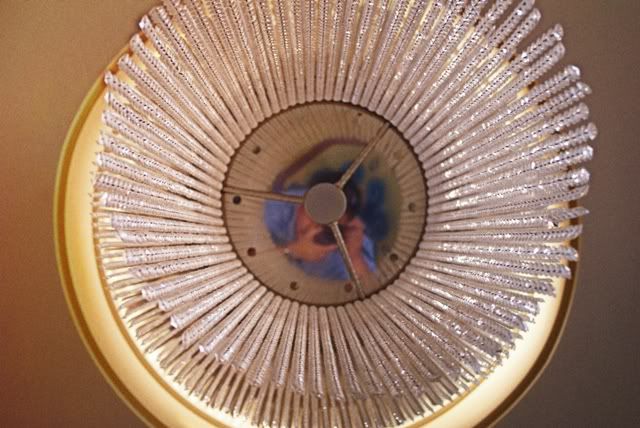 Wala lang…adik sa chandelier.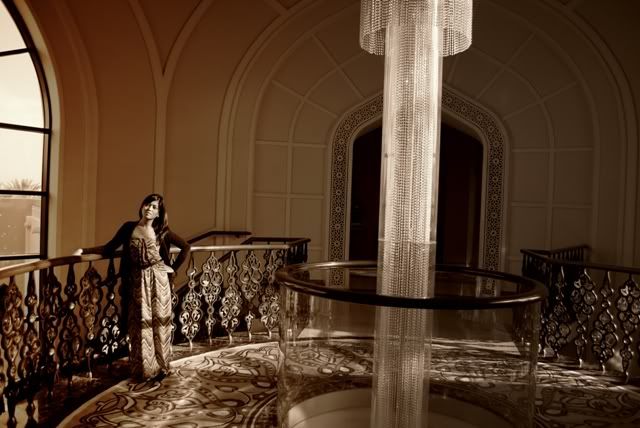 Palalagpasin ko ba ang pagkakataon na dumaan dito at hindi i-avail ang mag-pose? Syempre hindi!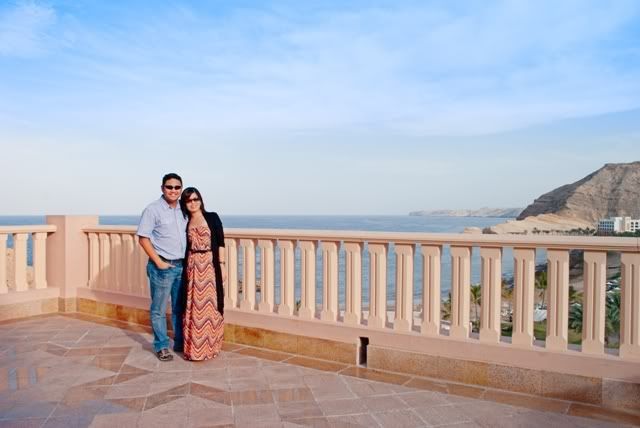 At the top of Al Husn Hotel, the most exclusive and private of the 3 hotels within the resort. In their website, it says: In keeping with the privacy and exclusivity of the hotel's facilities, Al Husn does not cater to children under the age of 18 years. For families with children under the age of 18, we recommend Al Waha and Al Bandar hotels. 
Baket kaya? rated PG? Well, yeah its very exclusive that even the access to their open area for the buffet lunch, is still controlled thru the guests respective room keycards. Room starts at RO 275 or around Php 33,000 (Iwanttofaint). Kung gusto mo ng seaview, bumaba ka na lang para mag-view ng sea dahil mas mahal ang seaview rooms.

Since sobrang Mahalia Jackson si Al Husn at loyalty is the best policy ang drama ko, we spent the night in one of the hotels of the company I worked for. I always love that everytime we are here, they give us the room na may little sala. Love the purple couch…and masaya si Rolex sa discount, kasi sya ang magbabayad.haha!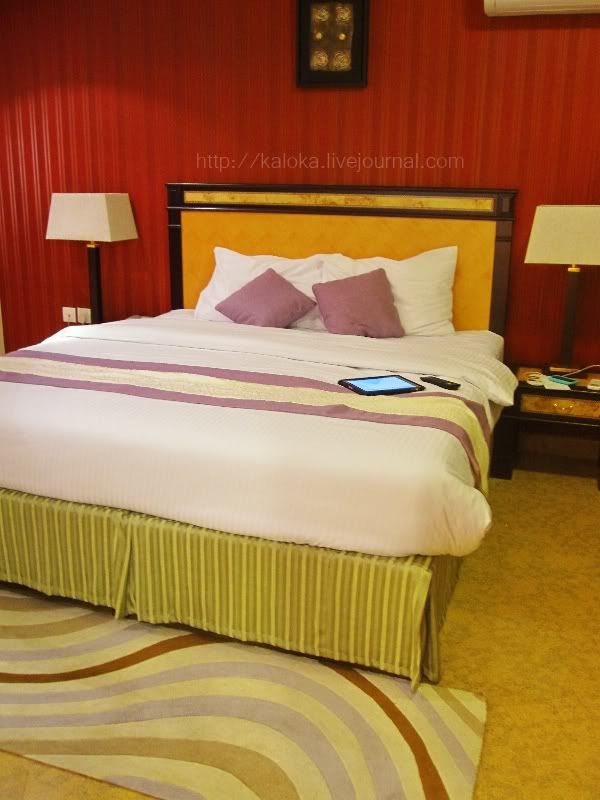 Ang matulog ng maaga ay "uga". At 6:30 PM, we left to attend the 7PM mass only to find out that it was cancelled on that night (jinx). For some reasons, the Food Festival after the mass was also cancelled and so my hope of having pork bbq ay naglaho na parang bula. Instead, we went to the nearby Pinoy restaurant. Dahil nasobrahan sa buffet lunch, Rolex had coffee but I still ate a little lomi dahil takot ako magutom. (Note: wala rin pork na sine-serve kahit sa Filipino restaurant, as in wala..bawal).
Later…syempre gumimik kami..as they call it now, we went "clubbing". Juicekoday, I wouldn't tell which hotel we went first but Rolex said  that parang gusto nyang ubusin na agad ang beer para maka-alis na. The crowd was not really baduy, but the band was. After one round of drinks, we drove to Hyatt Hotel and spent the rest of the night at their Safari Pub. It was a fullhouse. The band and their music was great. The crowd is a mixture of different nationalities though may na-sightchina see akong mga International pokers (you know what I mean). Nevertheless, we had fun. I was dancing again…actually I missed going out on a loud night as if I did not exhaust my single life going out. I also suddenly missed the company of my girlfriends dahil si Rolex ayaw sumayaw! Actually, gusto ko rin malasing agad dahil ang mahal ng drinks! Its like 1 bottle = Php 500. Bow.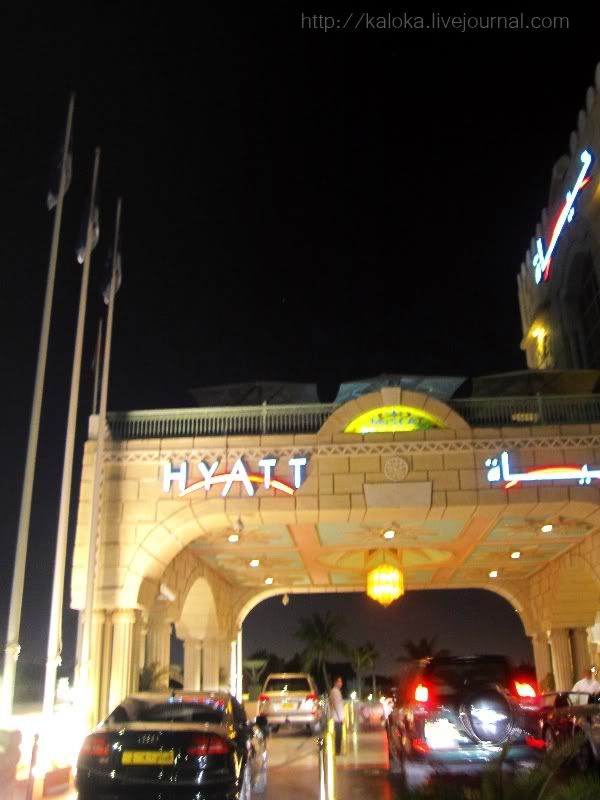 We ended the night with Shakira's Waka-waka…and sensya na sa picture, it's blurry, chole na kasi.
The following day, syempre hindi ko na birthday and luckily we were able to catch the Filipino mass at Ghala Church. We were late for around 10 minutes simply because we were lost in translation. You can never trust me with directions dahil ako ay walang sense of direction and will never have. After saying my never-ending thank you's to God, we dropped buy at The Wave Muscat for lunch.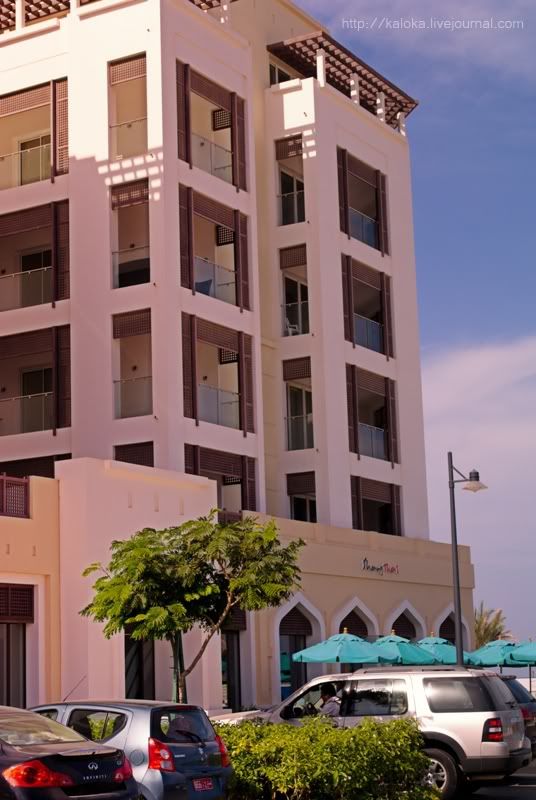 It was our first time to dine at Shang Thai and it was sumptuous. I had %*!&#&*((())..it was in Thai language basta grilled chicken with chef's special sauce + rice (I cant live if eating is without rice, I cant live, I cant live anymore) while Rolex had Pad Thai noodles.

Before heading back to "kaugahan", we stopped by at The Wave's marina…Rolex' dream garage…haha! The dream that will remain a dream.
Again, thank you very much hon for making me happy on my birthday.Enough said. I love you.
PS.
The better photos are taken by ByBernard while the not so good ones are c/o me or the self-timer.
Cheers!
Add a comment
comments