#salealert :
Life is not perfect but your spring #ootd can be. Check out this
MSGM Ruffle Tee.
I bet you'll love it!
Shop Now!
_______
The housekeeper was put to jail. The sister bailed out the housekeeper. The husband act as witness. According to him, the housekeeper didn't steal it. He took the Louis Vuitton luggage because it belongs to him. The wife refuted. It's hers. It has her initials CB and she showed it for the world to see via Instagram.
My question. If it was stolen, then why is it still with you? Did the husband returned it (wow mali, RS should be the initials there)? Now the husband answered via Instagram too for the world to see too. He also has his own collection of Louis Vuitton luggage but without initials.
Is a collection of LV luggage worth fighting for? A LV Satellite suitcase in monogram canvas as shown in Mrs. CB's Instagram posts though not available online , is quite similar to a LV Sirius. The LV Sirius 70 measuring 27.56 x 19.29 x 8.27 inches is worth $2,350 according to www.louisvuitton.com. Multiply it by 2, equals $4,700 or approx. Php 205,000 at the current exchange rate. Good thing the heat stamping of initials is complimentary.
As shown in the Mr.'s Instagram post, he also has the softsided LV Satellite plus a LV rolling luggage which costs between $3,000 – $4,000 or Php 130,000 – Php 175,000 (depending on the size) and another LV luggage similar to a Eale 60 which is priced online at $ 2,820 or Php 123,000.
It it were a case of conjugal property, looks like the Mrs. is left with the cheaper priced Louis Vuitton luggage 🙁
PS.
1) I love Instagram, it's so jologs 🙂
2) Now thinking of having my LV bags (with S means I can still count them with my left or right hand fingers and they are not luggagessss) stamped with my initials EN so BRR will not take back what he has given me.
3) Gretchen Barretto's yaya arranging the seven LVs, two Isle Manhile trunks, and the microwave oven. Wanna beat that?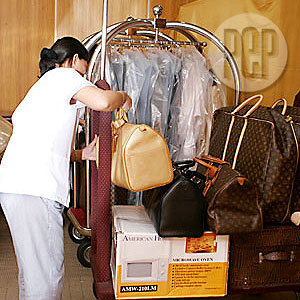 Cheers!
Add a comment
comments