#salealert :
Life is not perfect but your spring #ootd can be. Check out this
MSGM Ruffle Tee.
I bet you'll love it!
Shop Now!
_______
If you know me, I only have 7 living room basics in my dream home: a comfy sofa, a stylish ottoman, a beautiful self-portrait, an elegant chandelier, an array of lamps, a travel photo wall and a piano. Is that 7? It doesn't hurt to have a view of the infinity pool but I have accepted the fact that I will just fully utilize the pools in the 2 clubhouses of the subdivision. Infinity pools have no room for the budget-conscious me and in fact I even do not know when we will have the courage and the $$$ to build our dream house…but we are working, so hard for it.
If there is one thing that Rolex wants to have in his living room too is an aquarium. According to him, it will bring peace, serenity and good luck. This is not really my favorite thing until I discovered ways on how to make use of an aquarium other than the beliefs of luck and world peace.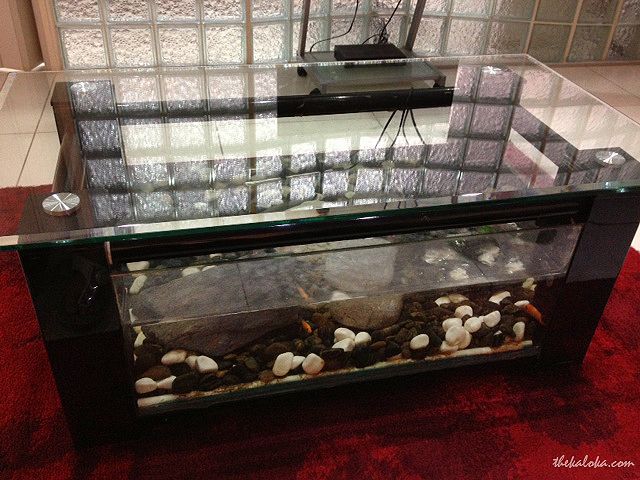 I took this photo from the dental clinic yesterday where Rolex had a check up. How amazing that this aquarium was turned into a center table. I definitely like the idea. That's hitting 2 birds with one stone, an aquarium + a table in one. However, I also came to realize that I can actually hit 2 birds with one stone with this idea : an aquarium + my self-portrait.
Do you get what I mean? Which do you prefer?
"I simply remember my favorite things and then I don't feel so bad"
Cheers!
Add a comment
comments