This woman never ceases to amaze me. From wearing a blood vial of an ex-husband around her neck, adopting 3 kids of different nationalities and having twins of her own, being UN Ambassador to marrying Brad Pitt (soon). Angelina Jolie really never ceases to amaze me. It might just be so damn easy being Lara Croft or Evelyn Salt or Master Tigress but to lose your breasts in order not to lose a lifetime with your children is another thing. Angelina Jolie just made a shocking medical choice of a lifetime.
"I wanted to write this to tell other women that the decision to have a mastectomy was not easy. But it is one I am very happy that I made. My chances of developing breast cancer have dropped from 87 percent to under 5 percent. I can tell my children that they don't need to fear they will lose me to breast cancer.", Angelina Jolie wrote in an article for the NYtimes. She underwent a preventive double mastectomy.
Preventive mastectomy is the surgical removal of one or both breasts in an effort to prevent or reduce the risk of breast cancer. Can you imagine removing your breasts before the onset a real cancer? I mean, most women want boobs. Who doesn't? Not extremely humongous but at least a pair that does not require the aid of a wonder bra. I don't have that kind of boobs so maybe a preventive mastectomy would not make a difference to me but kidding aside just the thought of the process medically and emotionally is overwhelming.
"I am fortunate to have a partner, Brad Pitt, who is so loving and supportive. So to anyone who has a wife or girlfriend going through this, know that you are a very important part of the transition. Brad was at the Pink Lotus Breast Center where I was treated, for every minute of the surgeries. We managed to find moments to laugh together. We knew this was the right thing to do for our family and that it would bring us closer. And it has.", she also wrote.
And I wrote this: Oh Brad Pitt!
The lost of a breast or both is unimaginable for a woman, much more the lost of a loved one because of cancer. It is something I dread to think about. It doesn't take a celebrity like Angelina Jolie to choose an option that can change a lifetime. After all, we are all human. Remember, what doesn't kill you makes you stronger (I should keep telling that to myself).
To read the entire article from NYtimes, click here.
Cheers!
I slept past 12 midnight. While Rolex is sleeping like a baby, I was wide awake. Then my niece AJ who is in the UK sent me a video of herself dancing to the tune of Michael Jackson's Beat It in class (just for fun and FYI she's already in College). I thought it was crazy and I forwarded it to my bff Fiona who is in Canada (FYI AJ, Ate Fiona said you've got the moves). And now because of that dance video, I was even wide awake sitting alone in the den of our flat in the Land of Kaugahan while texting with 2 other people from other spots in the world.
A few minutes later, NYTimes just popped up on my Iphone bearing one of the saddest news: "Two bombs exploded seconds apart near the finish line at the Boston Marathon." Just like that. It was still fresh, no updates yet as to the casualties. Now, tell me how I was able to sleep…with a heavy heart?
I woke up around 6:10 AM not too early to have ample time to prepare breakfast. My right arm is still in pain due to continuous work the other day (time to check ergonomics or am I just really getting old?). Good thing I am not really swamped with work today so I had some time to blog after lunch and browse the net. Here's what I found:
Men ejected from Saudi Festival, deported for being too handsome – Is this for real?
Gwyneth Paltrow at 40, looking like Barbie
Beyonce's new H&M Campaign
Shoe moment!
Then while writing this post, I felt a little shake. I looked up and the files above me are still intact and not moving. I said to myself, ok this is just the result of not having the right amount of sleep. I saw my officemates and they were just busy talking, so the tremors must be in my head only. A few minutes later, one of them just said that there was an earthquake in Muscat, the capital city. Now it validated my observations a while ago, the tremors are not in my head alone. There was really an earthquake. My very first earthquake experience in this land.
So to end this non-sense talk, I just have a few questions in my mind: What is happening to the world I know now? Why can't I have all my favorite people in one place with me? How insane it is to plant a bomb or two!!! and leave the people who joins marathons crippled? Why body pain comes so easy with age? Why being too handsome is a crime? Does it go with being too ugly too? Why Gwyneth Paltrow looks like the perfect woman? While I wish for Beyonce's body when I was too thin when I was younger, I still admire her now more than that. How can I sing and dance like her? Why I haven't found the most comfortable shoes in the world? Just because these pairs might be as pricey as their comfort? What the hell is this earthquake doing here?
Cheers!
I would have gone mad (as in furious like I have killed you 77 x 7 in my mind) if it happened to me. Have you heard of the ATM Machine Scam? It happened to my dear friend.
"My personal experience this Jan 2013: Returned from a business trip not knowing that my whole month pay (plus other reimbursements) was being withdrawn via another bank ATM ilegally and without my authorization. My account was not even in the bank's list of "suspected accounts that was breached", so this was not blocked (as mentioned in the article the bank blocks automatically these accounts as a pro-active measure). The bank denied my claim for reimbursement and even pointed out that I, as a depositor, should have been responsible for the security of my card and PIN. I did my part since the card was in our possession all the while. It is the bank's responsibility to safeguard the accounts of its depositors. I am still fighting this one out to get back my hard earned savings from this bank. Take extra care everyone, monitor your accounts on a more regular basis. Please share as this can happen to anyone who makes a decent living and finds out it was taken just like that. But you still get blamed in the end by the bank who is supposed to keep your savings safe." – via her FB account

The bank that my friend is referring to is BDO. This is totally insane, check out BDO's reply to my dear friend's formal complaint:
"In view of the above, we regret to advise you that we are unable to reimburse you for the amount you are claiming as we have no basis to justify same given that the transactions were made using a valid/ legitimate NDO ATM Debit Card Number and ATM PIN.
As a Card Holder, you are fully responsible for the security of both your BDO ATM Debit Card and ATM PIN as well as for all transactions made using the same card issued to you as stipulated in the "Terms and Conditions Governing Deposit Accounts" by which you agreed to be bound."
So that's it pancit? As if you put your 1 month salary into a useless charity. It's a fact that there is an ATM scam but what about the security of our hard-earned money in the bank? Shall we just call all BDO depositors to withdraw their money in the bank because they are not in safe hands? Isn't there such thing as compromise just like when banks go bankrupt, there's PDIC? BDO, you said "We find ways" but unfortunately now its "No ways".
Calling all law makers, please do something not just to the scammers, but also on how to protect the public and their hard-earned funds. Calling all politicians running for public office in May 2013, these ATM Scam victims are voters, please do something.
PS. To know more about the International ATM Scam, click here.
Cheers!
REWARD
I slept late and woke up early with a big grin on my face this morning. I got a message from a close friend about the Victoria Secret underwear I gave her when I came back from a working trip in Houston last 2005. 7 years ago, quite a long time ago but the story she shared behind the Victoria Secret undies is very rewarding even up to this very day. Though its just the icing on the cake but it was a funny anecdote you can remember for a lifetime. Believe me, its way too funny I can't share it here.haha!
REVENGE
Just last night, Rolex introduced me to "Revenge", an American drama series about…what else? Revenge. After the gross (oh bloody gross) Walking Dead, I asked Rolex how he discovered this new series? Google! Something just came to his insane-mind-at-the-moment and googled the word revenge. Try it and the first item is the wikipedia of the TV series itself.haha!
…and in BETWEEN
Wednesday, December 12, 2012 or 12-12-12 is the last day of Shopbop's EXTRA15OFF promo. So what are you waiting for?
PS. – I was once revengeful. Click here to know how.
Cheers!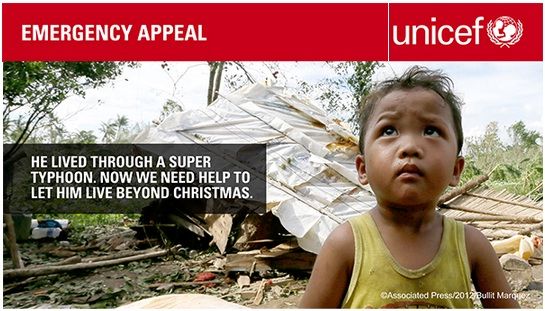 According to UNICEF, many of the 252,000 children most affected by Typhoon Pablo are without a home and without adequate food and clean water. It is estimated that children account for more than 40 per cent of the 5.3 million people affected, many left injured, shocked and wondering if their parents are still alive.
We can make a child happy this Christmas with a little help that can go a very very long way:
A one-time donation of Php 1500 ($40) can help provide 3 families with water containers and water purification solution for a month's supply of safe, drinking water.
A one-time donation of Php 3000 ($75) can help provide 5 families with hygiene kits containing soap and other essential personal hygiene items to meet their basic needs.
A one-time donation of Php 5000 ($120) can help provide temporary toilets for 8 families in the affected areas.
You can also donate any amount that your heart desires.
Click here to find out more on how to help.
Cheers!