For the past flood, typhoon, earthquake or war that has plagued certain places in the Philippines this year 2013, at each instance I would ask Rolex : Will it ever happen to Tagum? – our place of birth and where our parents are right now. It scares me because every time this disastrous calamities happen, I often ask myself: What if it will happen to me?
If I am going to do a shirt campaign, this could be my slogan "I am sorry for the things I said when I was hungry". So I ask Rolex again, what will happen to me if I hadn't eaten for days just like most of the people in Tacloban right now? (I was talking like this while savoring the tasty adobo that Rolex cooked last night and so I remembered the Philippine Red Cross Ready-to-eat Meals which comes in adobo and caldereta). He said, "you will die right away".
To be totally honest, it can feel guilty weird waking up from the comforts of our homes then you'll switch on the TV seeing that the world has fallen apart in Tacloban. However, we can't help but look back that also at some point in our lives we have also struggled. Death of a parent can also mean the world has fallen apart on us. Perhaps, some of us might have toiled their ways just to finish school or barely have 3 decent meals a day while others right now are nursing a very ill child. These are all trials (test, experiment, tryout) and are therefore temporary a.k.a. not permanent. This too shall pass.
The process of getting through this turmoil is the most difficult part because if it happened to me or my family? I really don't know what to do. So while we are safe and sound at home comfortably browsing the internet through our top of the line gadgets, let's find out what the social savvy Pinoy should do in times of calamities:
1) Please stop sharing any news which tantamount to hearsays in your social media accounts. If what you googled on-line has no valid link of source, just read and don't share it. Get your facts straight from the news authority.
All over Facebook, Twitter and Instagram you see this on people's wall: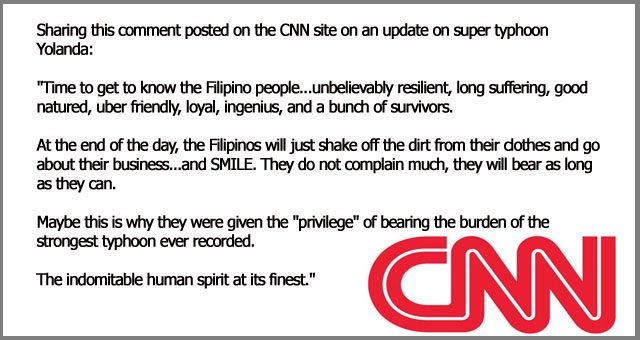 With the looks of it, it really appears to me that CNN has those promising words for the Filipinos (the CNN logo is so major there). I feel sorry for "dudesk001″, it should be his name there and not CNN. Click this article on cnn.com and at the comments section you will see this: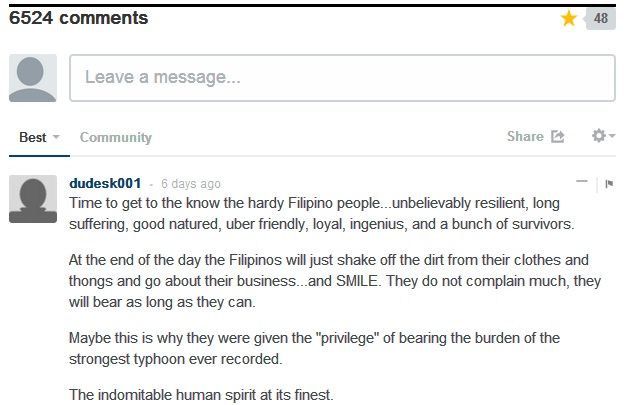 Dear "dudesk001″,
Thank you very much for those inspiring words.
Regards,
"thekaloka"
2) Please don't be quick to judge because you were not there. Survival is a human instinct.
3) Please stop the blame game and just shut up. Why don't you just blame God for this act of nature, right? But NO. Do you think whatever you rant on Facebook or Twitter can do something? The answer is again, a big NO. There's a big difference between being vigilant and just plainly talking non-sense.
4) Please help in any way you can. At this point, I really don't care if you are sincere or not. For as long as your donations in kind, cash or service can make a difference in the lives of the afflicted, well thank you.
5) Please pray. The last but not the least.
Cheers!